Now Hiring for the Following Roles:
Aspiring Project Managers are encouraged to apply to the below engineering roles, which can be fast tracked into a PM position for that discipline
1. Electrical Design Engineer (Distributed Generation), Mid to Senior Level
a. Locations: Hoboken, Denver, Kansas City, Houston or Remote
2. Electrical Design Engineer (Utility-Scale), Mid to Senior Level
a. Locations: Hoboken, Denver, Kansas City, Houston or Remote
3. Independent Engineer / Owners Engineer, Mid to Senior Level
a. Locations: Hoboken, Denver, or Remote
4. Planning & Interconnections Engineer, Mid to Senior Level
a. Locations: Hoboken, Denver, Kansas City, or Remote
5. Structural Engineer, Senior Level
a. Locations: Hoboken, Denver, or Remote
---
Top Reasons to Join Pure Power:
Sounds too good to be true? We encourage you to look at our Glassdoor rating and read the feedback shared by our teammates over the past 10 years.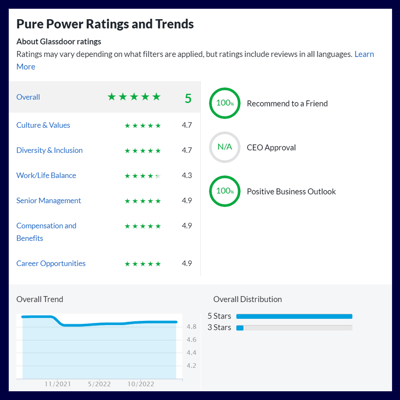 ---
Pure Power has grown every year, with zero down years. Four months into 2023, and we are ahead of pace on our 2023 goal.
Why is company growth important? Because a growing company creates advancement opportunities for its members. If your current company isn't growing as fast as your skills are, then you are being held back while you wait for someone more senior to resign and open up a position.
That's not the case here at Pure Power. Everyone is moving up each year! Join Pure Power and grow with us year after year.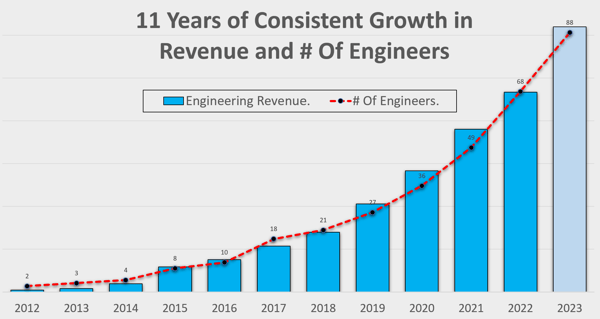 ---
In the USA, employees are leaving their jobs in record numbers. Most of the solar industry is the same, somewhere between the analogies of a revolving door and the solar coaster.
But not at Pure Power Engineering! Our culture is so strong that we have almost no turnover. We have completed designs on 2,000+ projects between 100kW-100MW in size, and a huge % of that experience is still with the company.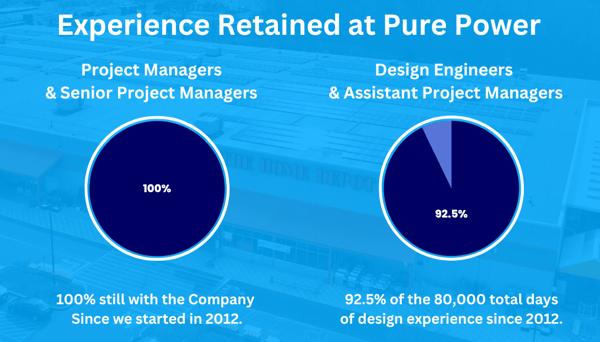 Pure Power Engineering is leading the change to improve lives by engineering greener, more innovative energy solutions that the world needs to achieve a net zero future. This mission is built by creating an environment where diversity and inclusion are evident in everything we do. Our success centers on attracting the best engineers and talent from around the globe, building a diverse team, and creating a workplace where everyone is welcomed, valued, and supported. We recognize that a diverse team coupled with a strong sense of community is crucial to maintain our innovation, diversity of thought, and resilience to overcome the challenges ahead. Together we can build a better workplace and a better world!
We are committed to:
Holding ourselves and each other accountable.

Promoting a mindset aimed at growth and inclusivity.

Welcoming everyone's individual and collective diversity.




---
Looking for mentors to help take your career to the next level?
Young engineers grow fast when mentored by highly experienced engineers & managers. Even the most senior engineers will find mentors to learn from at Pure Power (1 in 4 of our 80 engineers are licensed PEs).
A key part of our culture is sharing knowledge. Join Pure Power to surround yourself with the most experienced engineering mentors in the industry and accelerate your professional development!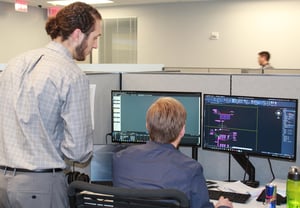 ---
Want to be a great engineering "manager" or teammate? That takes a lot more than technical skills (AKA hard skills).
That's why Pure Power emphasizes management & soft skills training for all levels of our staff. We prepare engineers for management roles before and after they receive the promotion. Technologies change quickly, but the principles for managing people and projects don't. The soft skills you will gain at Pure Power will benefit your entire career.
Come work under our great managers (a top reason our engineers rarely leave the company), and become one yourself!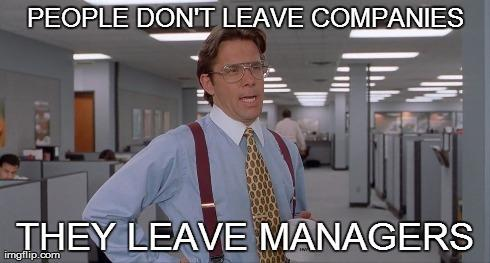 ---
Tired of working on the same types of projects using the same equipment over and over again?
At Pure Power, our engineers are exposed to a huge variety of projects and equipment across our 200+ clients. You will see every type of:
System (Roof, Ground, Carports, Solar, and/or Energy Storage)

Racking (Ballasted, attached, piles, fixed tilt, tracking, etc.)

Equipment (Every type of module, racking, inverter, MLPE, and BOS system)

Design Architecture (too many to list!)

There is always more to learn and exciting new challenges at Pure Power
You will learn to engineer projects with every possible combination of factors, which will keep you challenged & learning year after year.

---
8. Engineers are Our Top Priority
Many other companies in the solar industry have an engineering department, but almost none put the growth of their engineering department as the top priority. They consider Engineers an expense to be minimized, so they hope you don't advance too quickly and need to be paid more. This limits the long-term opportunities for your advancement.
That's not the case at Pure Power. Our Engineers are the lifeblood of our company. We want to give you raises and promotions because that means you are developing professionally, becoming a leader in our organization, and offering more value to our clients. We will train you and give you all the resources you need to get promotions & raises as fast as you can earn them.