Structural & Civil Engineering For Solar & Energy Storage Systems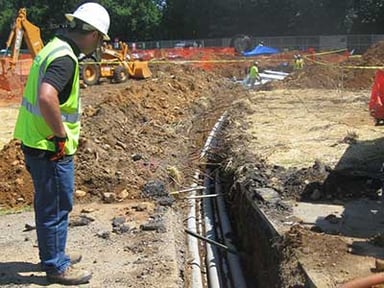 We are a group of passionate structural engineers determined to bring your solar + storage project to life. With a combined 40 years of experience, we solve complex problems that can make or break your project. If you do not have the data or structural plans in place, our highly skilled team will come to your location to generate a site survey and provide the necessary information to get your project approved in the most cost-effective way possible.
Structural Engineering Services
Areas of Expertise
Unrivaled Structural Experience & Knowledge
Combined 40 Years of Experience in Structural Engineering

Team of 6 in-house Structural Engineers (5 Professional Engineers)

We only design solar + storage structural systems and understand it at a deep level that a jack-of-all-trades firm can't match.

This experience allows us to solve complex engineering challenges and identify unforeseen risks in design & construction so clients can maximize the performance and profits of their solar + storage system.



Review & Analysis of Rooftop Structures
Our team will travel on site to analyze the structure to determine the feasibility, structural capacity for a solar system and if any modifications need to be made to meet the requirements of the 3
rd
party reviewer. Providing comprehensive structural analysis of the structure supporting rooftop solar project to determine the capacity of the structure to accommodate the appropriate racking system (hybrid, mechanically or ballasted) performing site visit to collect the data when structural plans are not available, communicating and addressing comments for AHJ and 3rd party reviewer.
New Solar Structure Design
Pure Power will provide multiple cost-effective designs of a structure that will support the weight capacity, overall size and specified electrical equipment of a solar + storage project.
Electrical Equipment Foundation System Design
Our team will provide cost-effective foundation design options that will support different electrical equipment such as PADs, SKIDs, transformers, switch gear and other types of ground mount equipment of a large scale solar + storage project.
Utility Pole Design
Pure Power will provide detailed structural plans for pole lines that show all structural equipment including poles, guy wires, and anchors to ensure the safety of the pole line under extreme loading events or conditions.
Comprehensive Structural Support
Pure Power will provide multiple cost-effective structural options for concrete pads and steel piles that will support the weight capacity, overall size and specified electrical equipment of a solar + storage project.
Case Study: Buffalo University
Issues:
Warehouse rooftop was not feasible for a Solar Project.

EPC went to multiple firms but could not pass 3rd party review.

3rd party reviewer was extremely experienced and was asking tough questions no other firm could answer.
Solutions:
PPEs SE team was hired & traveled on site for analysis.

Prepared a 500 Page report that addressed and answered all 3rd Party questions.

PPE made rooftop feasible for a solar project.
Takeaways:
PPEs analysis passed 3rd Party & University Reviews.

Rooftop solar project is now under construction.

Saved EPC Cost of modules & racking that was already ordered.

When other Firms said no, Pure Power said yes!
$250,000 In Savings For Materials & Other Project Costs!