PV connector mismatch is one of the most common solar project deficiencies. In our work as an Owner's Engineer, Pure Power identifies mismatch connectors on roughly 25% of our clients' projects. While PV connector mismatch is a persistent and potentially severe problem, it is also entirely preventable with proper design, documentation, and due diligence.
What are PV Connectors?
Latching- or locking-type PV connectors in free-air applications are ubiquitous on the DC side of a PV power system. Every PV module includes a factory-installed wire whip that terminates in male and female PV connectors. These single-polarity mating connectors allow installers to quickly make plug-and-play connections within the array. While Stäubli's MC4 connectors are perhaps the best known PV connector type and brand, other certified options are available from well-known brands, such as Amphenol and Tyco, as well as a long list of lesser-known manufacturers.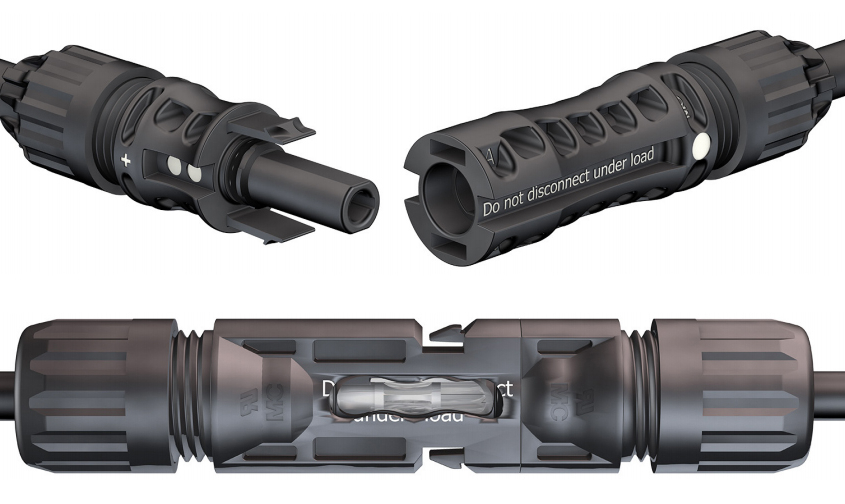 What is PV Connector Mismatch?
The product safety standards that cover PV connectors include UL 6703: Connectors for Use in Photovoltaic Systems and UL 9703: Outline of Investigation for Distributed Generation Wiring Harnesses. In order to list products to these standards, manufacturers must publish installation instructions. Both common sense and the National Electrical Code (NEC) dictate that field installations comply with product listing instructions. Section 110.3(B) of the NEC states:
"Equipment that is listed, labeled, or both shall be installed and used in accordance with any instructions in the listing or labeling."
In practice, too many designers, installers, and inspectors are unfamiliar with the installation instructions for listed PV connectors. As an example, Stäubli's MC4 installation manual notes:
"Connectors not originally manufactured by Stäubli which can be mated with Stäubli elements and in some cases are even described as 'MC4-compatible' by certain manufacturers do not conform to the requirements for safe electrical connection with long-term stability, and for safety reasons must not be plugged together with Stäubli elements."
In other words, according to Stäubli's official installation instructions, which are part of its product listing and certification, there is no such thing as an MC4-compatible connector.
Why Does Connector Mismatch Matter?
Walmart's now-settled lawsuit against Tesla hinged in part on roof fires and PV connector mismatch and illustrates the high stakes involved. Fire incident investigators and reliability experts have long been aware of the problems associated with mating incompatible PV connectors.
As part of a technical assessment of solar project risk, TÜV Rheinland evaluated different PV module failure modes according to severity of effects, likelihood of occurrence, and detectability. The researchers then ranked PV module failures according to a risk priority number. The results of this Failure Modes and Effects Analysis (FMEA) indicate that in-field failures associated with dissimilar connectors represent the single greatest risk to PV system performance and safety.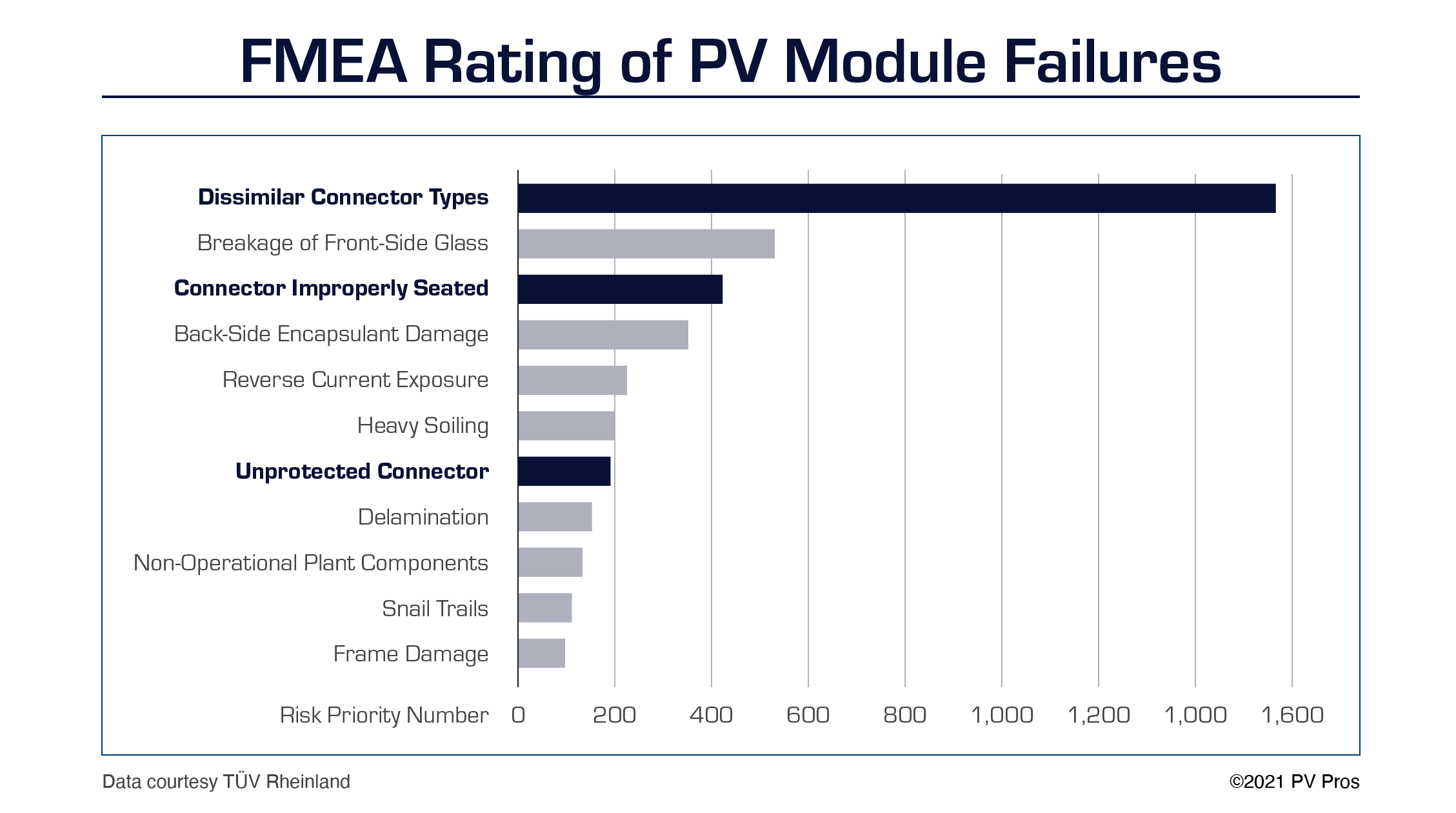 What About My Compatibility Letter?
As an Owner's Engineer, we cannot accept a manufacturer's letter claiming PV connector compatibility. Unless the original equipment manufacturers have specifically tested and listed dissimilar PV connector products for intermateability, there is no such thing as "MC4-compatibility" or similar. No universal PV connector standard exists. Housings from different vendors are made out of different materials; electrical contacts are made out of dissimilar metals; there are no standard product dimensions or tolerances. These differences lead to out-of-warranty, in-field failures. A compatibility letter is not a substitute for product listing or certification. Moreover, a compatibility letter will not meet NEC requirements.
What does the NEC Say About PV Connectors?
Section 690.33 of the National Electrical Code details requirements related to polarized, latching- or locking-type connectors in PV systems. As part of the 2020 cycle of revisions, the Code-Making Panel revised this section to specifically address connector mating and intermateability. New language in 690.33(C) clarifies:
"Where mating connectors are not of the identical type and brand, they shall be listed and identified for intermateability, as described in the manufacturer's instructions."
Technically, using listed equipment according to the manufacturer's instructions is not a new requirement. In practice, many industry stakeholders have overlooked these requirements, leading to in-field failures. The revised Code language eliminates any ambiguity regarding the importance of PV connector mating and intermateability.
How Can I Avoid PV Connector Mismatch?
Avoiding PV connector mismatch is an ongoing process, not a single action. The first step is to verify connector compatibility during the design process. The second step is to confirm compatibility prior to product procurement. The third step is to affirm connector compatibility upon delivery. This due diligence will drastically reduce connector mismatch issues on your projects.
When products arrive on site with different connectors, the earlier we identify this issue the more time we have to adapt to and mitigate it. Sometimes PV modules ship from a different factory. Sometimes there is a last-minute change in the PV make or model. While there are no elegant solutions to unexpected on-site connector mismatch, it is possible to order jumpers or replace connectors in the field wiring. All else being equal, a factory-made termination is preferable to a field-made termination in terms of quality control and reliability.