For IPPs that acquire solar assets after projects are developed and designed—rather than during development or design stages—there are relatively fewer opportunities to fix design problems or engage in value engineering. Nevertheless, it remains important to engage an owner's engineer (OE) or independent engineer (IE) earlier rather than later in order to ensure safety, quality and operational performance.
In the first part of this two-part article, I provide guidance about maximizing the value of third-party engineering services throughout project development and pre-construction activities. Here, in the second part, I will focus on the value-added engineering services that PV Pros provides to IPPs during and after construction.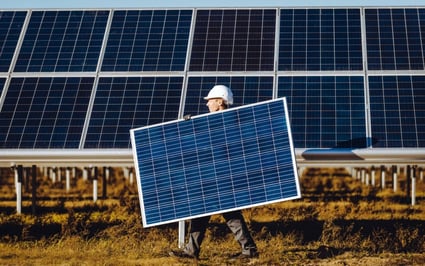 IE or OE Engaged During Construction
The milestone that separates pre-construction from construction is when the engineer of record releases the issued for construction (IFC) drawing set. Once projects enter construction, the primary goal of independent and owner's engineering services is to ensure or verify that the project being delivered is consistent with the project promised.
All else being equal, the earlier Pure Power is engaged as an owner's engineer (OE) or an independent engineer (IE), the more value we bring to the table. It is in everyone's best interest for these QA/QC checks to begin during the first days and weeks of construction. It is far easier to remedy a deficiency on a "golden row" than after months of bulk production.

Quality assurance and quality control. Verifying as-built conditions against the IFC design drawing and project specifications is a major component of QA/QC activities. In addition to visual inspection, quality tests include insulation resistance and very-low-frequency (VLF) testing; polarity and open-circuit voltage checks; and ground continuity tests. These quality checks are a precursor to system energization and commissioning.
As part of these commissioning tests, all power equipment—inverters, protection devices, transformers, reclosers and so forth—are verified against the latest planset, energized and operated. These tests are performed according to manufacturer-approved standards published by the InterNational Electrical Testing Association (NETA) or the International Electrotechnical Commission (IEC), including IEC 62446-1, Photovoltaic (PV) system–Requirements for testing, documentation and maintenance.
Milestone verification. Major project milestones, such as mechanical and substantial completion, are often followed by substantial progress payments. Lenders often engage Pure Power during project construction to provide an independently verified milestone completion summary report. As an OE, we also provide milestone site visits as a service to owners. Once milestone-related funds are released, the project lender or owner loses leverage to remedy deficiencies or bring projects into compliance with the design or contract documents.
Performance validation. As I discussed in a previous post, capacity and performance ratio tests are conducted based on complex published standards. When conducted properly, these tests demonstrate that a solar asset is performing properly. These performance verification tests are a primary means of de-risking a solar asset acquisition, whether the project is newly constructed or already operational.
IE or OE Engaged During Post-Construction
IPPs that specialize in acquiring operational assets require a special subset of technical due diligence designed to characterize the as-built conditions. This holds true for newly constructed systems as well as systems that have been operational for many years. After the close of construction and the start of commercial operations, it is just as important to validate the PVsyst model as it is to evaluate the fielded design and construction. Ideally, the operating system is free from defects and safety hazards.

As-built drawing review. As I have discussed previously, when record drawings do not match the as-built conditions, project owners and operators are at risk of incurring unnecessary and avoidable costs. This review is an essential part of an asset acquisition. The goal is to verify that the fielded system is consistent with the documented system.
Performance analysis. Given that all of the revenue for a solar asset is based on the PVsyst model, it is important to verify the accuracy of this model and make any adjustments required to fit the model to the in-field performance. This is especially important when acquiring assets after one or more years of operation. Depending on the age of the system, different derates may apply for soiling, degradation and availability as compared to a new system. Also, for older systems, Pure Power can improve the accuracy of the performance model by accounting for changes to landscape, such as tree growth, and by using improved modeling software.
Safety evaluation. After the close of construction, a primary goal of technical due diligence—such as plan review, QA/QC checks and visual field inspections—is to verify that an operational solar asset is free from safety hazards. Once the acquisition closes, it will cost the new owner money to make changes or repairs. For systems that have been operating for some time, it is important to ensure that maintenance and upkeep have been properly scheduled and implemented; this due diligence helps to avoid catastrophic failures resulting from the gradual degradation of fielded equipment