Independent power producers (IPPs) have different business models for solar asset acquisition. Some IPPs actively engage in development activities, such as site selection and preliminary design studies. Other IPPs look to acquire PV power systems that are under construction. There are also IPPs that specialize in acquiring operational assets. Regardless of the IPP's business model, all of these solar asset acquisition activities require engineering services on behalf of the owner or lender.
The basic goal of these owner's or lender's engineering services is to de-risk the investment, either by identifying and remedying deficiencies or by assessing, validating and characterizing the project against its model. Given that an engineering review is essential, it is important to extract the maximum benefit. All else being equal, the earlier Pure Power is engaged as an owner's engineer (OE) or an independent engineer (IE), the more value we bring to the table.
In the first part of this two-part article, I focus on optimizing the value of third-party engineering services throughout project development and pre-construction activities.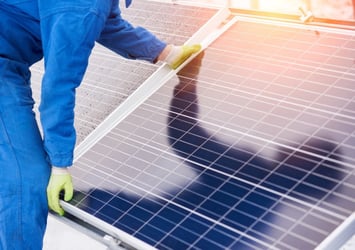 OE Engaged During Development
IPP's that develop projects with long-term ownership in mind will want to engage an OE as early as possible during project development. Once a suitable parcel of land is identified for project development, an OE can provide a variety of high-value preliminary design services. These professional services include due diligence and technical services.

Due diligence. The primary goal of early-stage due diligence is to review the preliminary design; identify deficiencies; and eliminate potential problems before construction and procurement activities commence. During development the project team will typically define a project's ac and dc nameplate capacity and begin specifying major equipment. There is also an opportunity to optimize the system design, allowing the owner to meet or improve their financial goals. This ensures that valuable non-recurring engineering budgets are not wasted on projects that will not meet the financial targets established at the start.
An experienced OE with specialized solar project knowledge can de-risk the preliminary design process by uncovering design deficiencies in equipment utilization and arrangement. In addition to identifying and helping to eliminate potential difficulties that could arise during detailed engineering, the OE will ensure that the project adheres to the Interconnection Application requirements as the design evolves. Moreover, a qualified OE can validate the accuracy of the project's PVsyst model and provide a finance summary report, ensuring that energy generation is neither underestimated nor overestimated.
Technical services. De-risking assets during development also requires detailed plans and robust contracts that incorporate relevant technical standards. When engaged early, Pure Power can provide foundational support that sets a project up for success. These planning activities not only facilitate EPC evaluation, selection and contracting, but also protect the owner against construction deficiencies and poor performance.
OE Engaged During Pre-Construction
For IPPs that develop projects with ownership in mind, skimping on owner's engineering during pre-construction is a pound-foolish proposition. An OE can bring a tremendous amount of value to project design activities, especially during the early stages. As I explained in a previous blog post exploring the "cost of quality," the closer a project gets to completion, the more expensive it is to fix a problem. The ability to fix problems, identify value engineering opportunities or amend contracts to reduce the risk of ownership decreases after drawings or specifications are issued for permitting or bidding.

Design review. The design stage of a project is typically broken down into three drawing sets that correspond with major project milestones: the 30% design drawings are often issued for the interconnection application; the 60% design drawings are often issued for the permit application; and the 90% design drawings are generally the minimum basis for procurement. It is far less expensive to fix problems during development or the 30% design stage, as compared to later during project construction or operations. During the 60% design phase, there remain opportunities to correct problems before they are baked into the design and construction details.
Value engineering. In addition to fixing problems before the system gets built, an experienced OE can also identify value engineering opportunities during the design phase. Reducing construction costs, increasing production or expediting the project delivery schedule are all ways to increase the value of a solar asset.
Planning and standards. During pre-construction, it is also important to set expectations and establish baselines that set projects up for success later, as I outlined in a previous post about capacity testing to ASTM 2848. All performance testing protocols are not created equally, especially from the perspective of an at-risk owner. The same may be true for different products or construction techniques. Part of the benefit of engaging an OE during pre-construction is to identify and eliminate gaps in design standards, design drawings, contract terms or test standards that effectively push risk from the installing contractor onto the long-term owner. Therefore, it is important to engage an OE before design drawings are sent out for permit, bid or procurement.