Commercial and industrial (C&I) roof-mounted solar photovoltaic (PV) systems present a unique set of engineering challenges and technical risks. Some commercial roof considerations—such as the structural analysis and roof loading plan—apply universally to all low-slope roof applications. Other considerations—such as waterproofing or slipsheet details—are unique to specific roof membranes or roofing systems.
In this two-part article, I provide a high-level overview of the most critical engineering and risk management considerations for C&I roof-mounted PV systems writ large, as well as considerations specific to the most-common types of C&I roofing systems. In order to properly apply a solar PV system in C&I roof-mounted applications, it is critically important to properly identify the type of roofing system. Therefore, this article focuses on C&I roof system identification and roof condition evaluation.
Roofing System Identification
Roof type and condition are critically important to project success. Roofs are often broadly categorized according to the outermost weatherproof covering or membrane. Other less-visible details of the roof assembly—such as roof deck, insulation or vapor barrier—are also relevant when using a C&I roof as a platform for a solar PV power system.
The most common roof coverings for low-slope commercial roof applications in the US include single-ply membranes; built-up and modified-bitumen roofing; and metal-panel roofs.
Single-Ply Membranes. Single-ply roof membranes are identified according to their chemical recipe and base polymer or elastomer. The three main types of single-ply roof membranes are thermoplastic polyolefin (TPO); ethylene propylene diene monomer (EPDM) rubber; and polyvinyl chloride (PVC). Positively identifying these materials is critical for determining the roof coefficient of friction, which is an essential input for wind load analyses and ballast calculations. Since it is difficult to discriminate between these materials visually, solar roof surveyors often carry swatches to assist with membrane identification.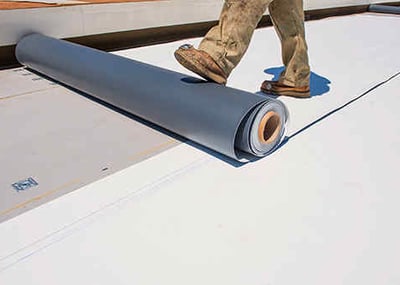 TPO, pictured here, is the most common commercial roof membrane in the US, in part because it is very attractive from a CapEx perspective. Membrane color and thickness are good indicators of a TPO roof. Most white roof membranes are TPO. TPO also comes in light gray or tan. Because it is a plastic, TPO is not highly elastic. As such, it requires a relatively thick membrane material. TPO typically carries a 15- or 20-year warranty. White TPO is ideal for re-roof applications with bifacial solar modules due to the enhanced albedo.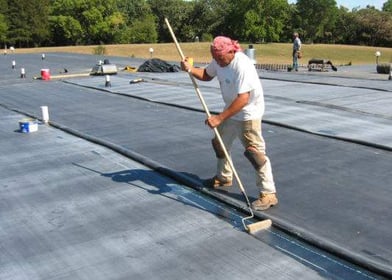 EPDM, pictured here, is the second most common single-ply C&I roof membrane. Since it is a rubber material, EPDM has good elasticity, which allows for a thinner membrane. EPDM is usually, but not always, black in color. As a rubber, EPDM has excellent resistance to temperature extremes and sunlight. It is most common in northern rather than southern climates. While its CapEx costs are higher than TPO, EPDM may carry a 30-year warranty and have a 50-year life expectancy. Though costly, white EPDM is available.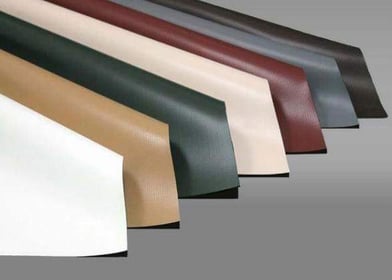 PVC, pictured here, is a reinforced polyester fabric. Though less common than TPO or EPDM, PVC offers good flexibility and tear resistance. PVC membrane can be heat-welded in place or mechanically fastened. White PVC is often used in cool roof applications. Additionally, PVC can be produced in custom colors—such as blue, green or red—for architectural or on-brand applications. A narrow roll width is one way to differentiate a white PVC from TPO, as 30 inches is a common PVC roll width. PVC typically carries a 20-year warranty.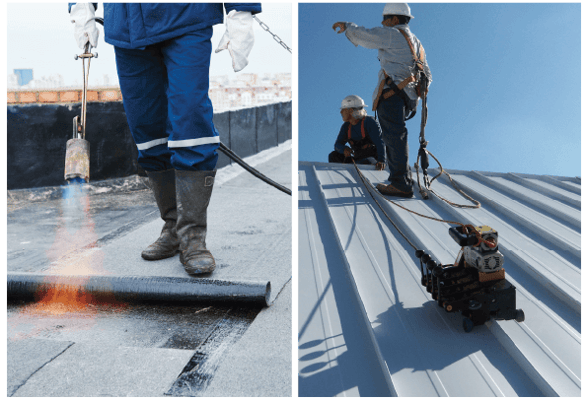 Built-Up and Modified-Bitumen Roofing. For roughly a century preceding the introduction of single-ply membranes, built-up roofing was the most common flat-roof system for C&I roofs. A built-up roof uses multiple layers of tar and gravel as a weatherproof cover. Similarly, modified-bitumen roofing, pictured above on the left, is also installed in multiple layers but uses rolls of asphalt roofing in place of tar and gravel.
With built-up and modified-bitumen roofing, each new layer provides physical protection for the layers underneath. These layers are not only built up during the initial installation, but also over time. Determining the number of layers is critical when retrofitting solar due to the sheer weight of the roofing materials. Older buildings with roofing systems that have been built up over time may not have the additional structural capacity to carry a roof-mounted PV system. Mitigating these load-bearing issues—by reroofing or reinforcing the structure—may not prove cost-effective for some clients.
Low-Slope Metal-Panel Roofs. Though less common than membranes or built-up roofing, roughly 3% to 5% of the low-slope C&I roofs in the US use structural metal-panels to withstand the elements. The most common metal panel roof is the standing seam-type, pictured above on the right, characterized by a vertical folded seam that is both structural and waterproof. Metal roof types also include different ribbed and corrugated panel profiles. Low-slope structural metal-panel roofs are typically found on roof pitches in the ¼:12 to 3:12 range.
A properly installed metal roof provides a long service life. True standing-seam metal roofs are particularly well suited for solar, as it is possible to use compression connections to attach the solar mounting system to the structural standing seam. S-5! manufactures a wide variety of standing seam clamps that will accommodate the many different standing-seam profiles. Solar roof surveyors should carry a sample bag of roof clamps to sites with metal panel roofs to verify compatibility.
Roofing Condition and Warranty Status
While roof identification is a critical component of a solar roof survey, it is equally important to evaluate the roof condition. Roof alligatoring, for example, describes a type of cracking that occurs on a commercial roof as it ages. This type of distress is a good example of a red flag indicating that a roof needs to be replaced. Signs of poor drainage, such as an excessive amount of standing water, is another red flag.
Installing a 25- or 30-year PV power system on a roof that appears to have a five-year service life is not a recipe for success. Similarly, it is important to install roof-mounted PV systems in a manner that respects and preserves any manufacturer or installer warranty. The last person who touches the roof is invariably blamed when a leak occurs. One way to avoid finger pointing and maintain an existing warranty is to hire the original roofing contractor to seal any new penetrations and consult on any proposed roof modifications.
If you are looking for more tips to de-risk C&I roof-mounted PV power systems while optimizing performance, contact Pure Power Engineering to learn more about our value-engineered design and construction drawing services.