As an Owner's Engineer, Pure Power often supports clients by making strategic decisions about how best to repair, re-power, or optimize the performance of operational solar assets. In this role, our team of experts and engineers often relies on record drawings that the installing contractor handed over to the owner upon project completion and acceptance. When the record drawings do not match the as-built conditions, project owners and operators are at risk of incurring unnecessary and avoidable costs.
What are As-Built Drawings?
As-built drawings are revised versions of the original engineered construction drawings that represent actual conditions in the field. During construction, the installing contractor is responsible for tracking any and all deviations between the formal set of construction drawings and the actual as-built conditions.
The informal documents that contractors use to track changes are known as red-line drawings. Redlines capture substantive changes made in real time throughout the construction process. Upon project completion, the contractor must produce a final set of drawings that captures the redline markups. The as-built drawings provide a record of these changes.

Who is Responsible for As-Built Drawings?
Once a project is operating, the owner is ultimately responsible for ensuring that the as-built drawings are accurate. This is an ongoing process, however, involving multiple stakeholders.
Installing contractor. During project construction, the installing contractor owns the process of maintaining and updating the as-built drawings. This is both a best practice and a form of due diligence. After all, the contractor is at risk for acceptance and approval on changes from the developer, owner, or financier. Moreover, most contracts explicitly call for the contractor to hand over an accurate set of as-built record drawings as part of project closeout.
Independent engineer. While accurate as-builts are essential to efficient plant operations, many installing contractors are either unable to dedicate adequate resources to fully document these changes or do not accurately capture all of the changes due to poor process control. Therefore, some owners will hire an independent engineer to document the actual conditions on the ground prior to project acceptance. This third-party inspection ensures that errors of omission or inaccuracies in contractor drawings do not complicate asset management activities after the commercial operation date (COD).
Asset manager. Assuming that as-builts are accurate at COD, owners need to ensure that as-built drawings remain accurate, reflecting changes that occur during operations and maintenance. Many owners outsource these activities to a dedicated asset manager. Asset managers working with a fixed budget are highly incentivized to maintain up-to-date project drawings in order to maximize operational efficiencies.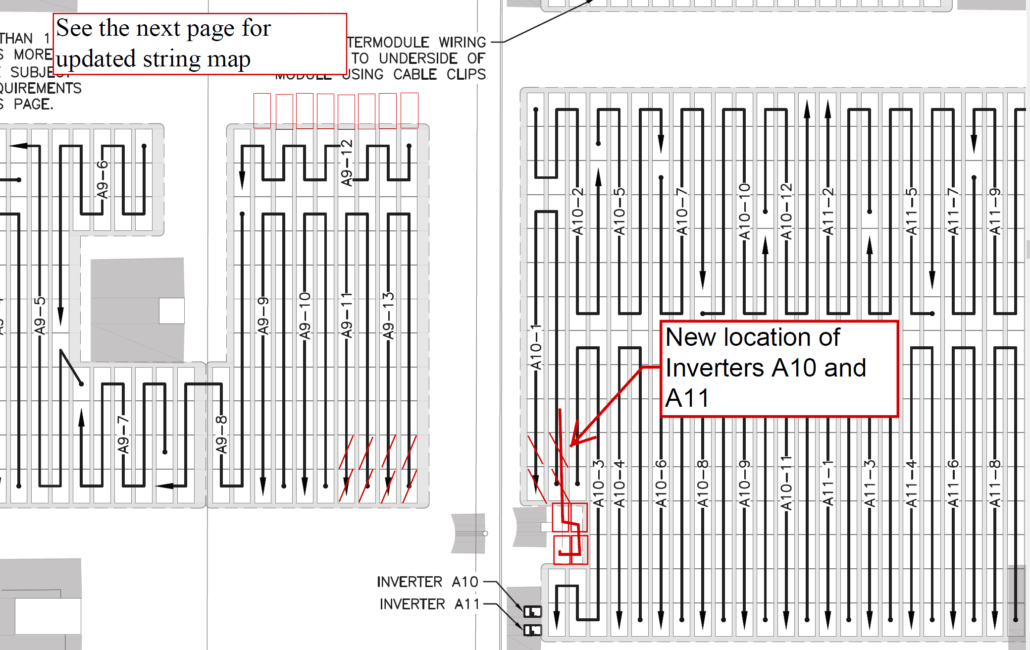 Best Practices for Project Owners and Operators
Inaccurate as-built drawings are a common cause of planning errors and inefficiencies during project operations. It is impossible for stakeholders to make informed decisions regarding project design improvements or component replacement or repair based on drawings that do not represent the reality on the ground. With that in mind, here are some tips for ensuring that project as-builts are accurate.
Get it right during construction. Every construction contract for new solar projects should require as-built drawings upon project completion. To ensure that these drawings are accurate, the contract terms should mandate engineering oversight prior to acceptance. At a minimum, the owner's engineer should confirm, as part of its closeout punch list, that the installing contractor will provide these contractually mandated as-builts.
True up the drawings in legacy systems. Never rely on old drawing sets past a certain vintage. The likelihood of undocumented changes increases with every year after the COD. Before planning capital improvements in legacy systems, owners should commission an inspection to confirm that the legacy drawings are up-to-date and accurate. The costs to true up the drawings are small compared to the costs associated making erroneous decisions due to omissions or inaccuracies in the as-builts.
Maintain digital records from the start. If project redlines start off with someone literally drawing on a paper planset, there is always a chance that something will get lost in translation or never make it to the digital copy. For that reason, we recommend that project stakeholders maintain redlines and as-builts in a digital format from the start. This improves the odds that any and all changes are captured in the latest drawings.
Establish revision control practices. After the issuance of construction documents, all changes to the drawings are part of an ongoing formal revision process. This process begins with the construction redlines. After COD, it never really ends. As long as solar projects remain operational, the asset manager or owner operator needs to have rigorous and clearly defined revision control practices in place for managing files, documents, and versions. Maintaining an unbroken record of revisions in this manner will improve operational efficiencies and reduce project operating costs over time.