Pure Power performs many types of power system studies, and the Arc Flash Study may be the most important because it is all about worker safety. However, since it's not always a code requirement and doesn't have a direct impact on generation, it is often ignored. We hope this series of articles will inform our clients of the importance of Arc Flash Studies to worker safety.

Part 1: Introduction to Arc Flash Studies
Part 2: Workplace Safety and Personal Protective Equipment (PPE) - This article below:
---

An arc flash is an explosive phenomenon that can occur during an electrical fault. Instead of following its intended path, electrical current passes through air between two conductors or between one conductor and ground. The hazards associated with a flashover event include vaporized metal, molten metal, hot air, shrapnel, sound and pressure waves, and intense light.

Arc flash conditions can occur unexpectedly due to electrical equipment failure. All too often, arc flash conditions occur when workers are actively engaged with energized electrical equipment. In a PV power system, personnel who perform electrical commissioning, acceptance testing, inspection, and operations and maintenance activities are at risk of arc flash exposure.


Arc Flash Risk Assessment (AKA Arc Flash Report)

As part of a thorough power study, Pure Power Engineering routinely conducts an arc flash risk assessment, as required to meet National Fire Protection Association (NFPA) and Occupational Safety and Health Administration (OSHA) requirements. As detailed in a previous blog post, the end result of an arc flash risk assessment is a warning label that is applied to each piece of electrical equipment. This label includes all of the information that a qualified person needs in order to identify safe working practices and select personal protective equipment (PPE).
Arc Flash Boundary
Defining the arc flash boundary is fundamental to an Arc Flash Risk assessment. At Pure Power Engineering, the arc flash boundary is the first piece of data that we report on an arc flash warning label. Arc-rated PPE is required to work within this boundary.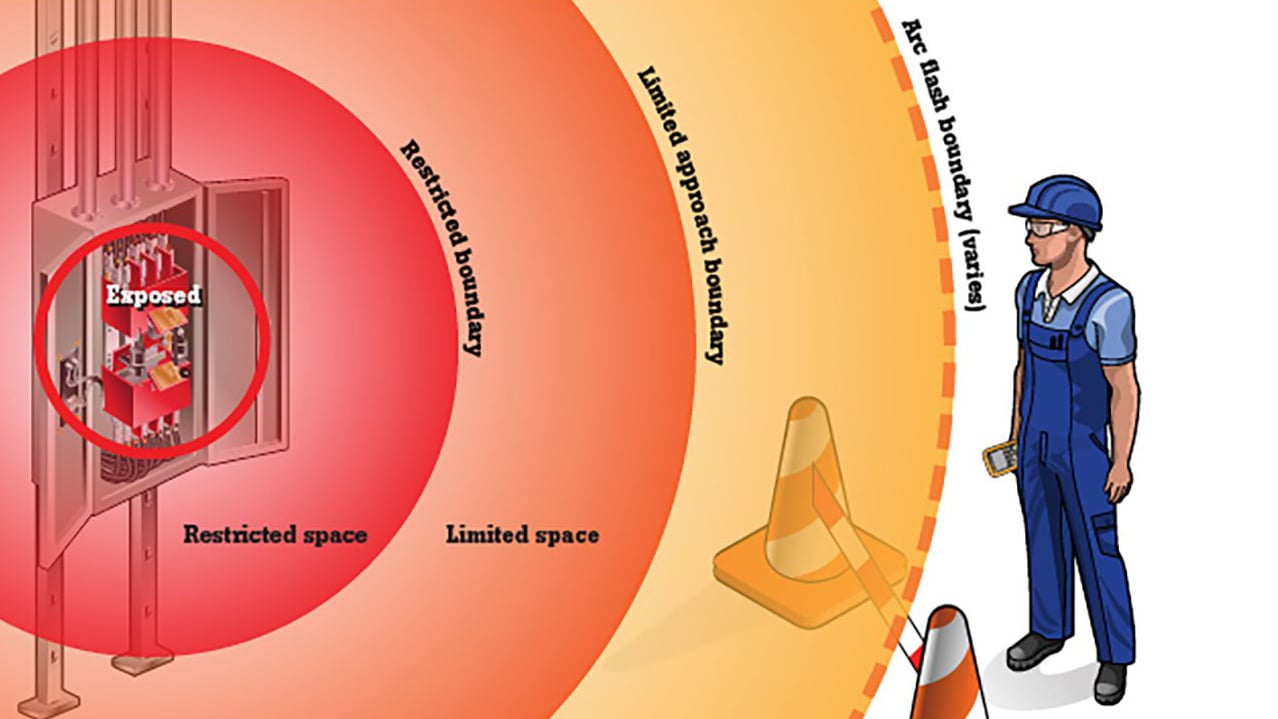 Courtesy Fluke
Inside the Arc Flash Boundary: NFPA 70E defines the arc flash boundary as the maximum distance from the arc source at which the incident energy equals 1.2 calories per square centimeter (cal/cm2). At this distance, a person without arc flash PPE could receive a second-degree burn in the event of an arc flash. (Per NFPA 70E Handbook, the restricted and limited boundaries and spaces within the arc flash boundary are not related to arc flash and incident energy and will be the subject of a future post.)
Outside the Arc Flash Boundary: Since a first-degree burn is a superficial injury, no PPE is required if the arc flash incident energy is less than 1.2 cal/cm2. Once the incident energy is equal to or greater than 1.2 cal/cm2, safety standards require PPE for any body part exposed to a potential second-degree burn.
Incident Energy and Distance of Arc Flash Boundary

An incident energy analysis is another important component of an arc flash risk assessment. This installation-specific assessment determines the amount of energy that a worker will be exposed to, at a specific distance, in the event of an arc flash. This piece of information allows workers to select PPE that is appropriate for the specific working conditions.
As a rule, Pure Power Engineering's arc flash warning labels report the incident energy at a distance of 18 inches for low-voltage equipment. This is roughly the distance between a worker's body and exposed electrical equipment for typical testing or maintenance activities. It is important to recognize that incident energy increases with proximity. If a worker's hands and arms are located closer to the fault source than 18 inches, the incident energy will increase accordingly.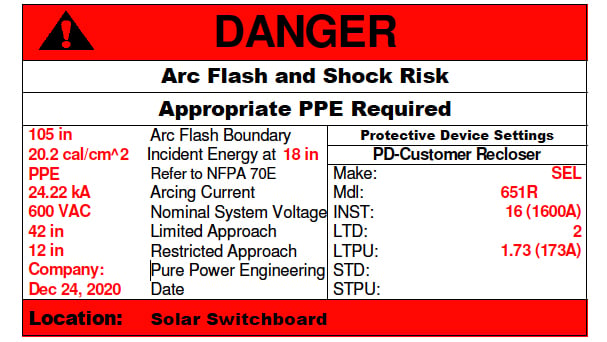 Personal Protective Equipment
NFPA 70E provides two methods for determining PPE requirements. It is important to recognize that these two methods are not created equally.
Arc Flash PPE Category Method. Based on Table 130.7(C)(15)(a) for AC circuits and Table 130.7(C)(15)(b) for DC circuits, the category method determines PPE requirements according to four broad categories of exposure and minimum incident energy ratings: Category 1 (4 cal/cm2), Category 2 (8 cal/cm2), Category 3 (25 cal/cm2), Category 4 (40 cal/cm2). The category method is most common on existing electrical equipment with legacy arc flash labels. Industry stakeholders have identified misuse of these tables as a common cause of PPE noncompliance.
Incident Energy Analysis Method. Based on Table 130.5(G), the incident energy analysis method determines PPE requirements based on the results of power engineering studies performed by a licensed professional engineer. Unlike the four-part category method tables, Table 130.5(G) references only two incident energy and PPE levels. The first column in Table 130.5(G) defines PPE requirement based on an incident energy level of 1.2 to 12 cal/cm2; the second column defines PPE requirement based on an incident energy level over 12 cal/cm2.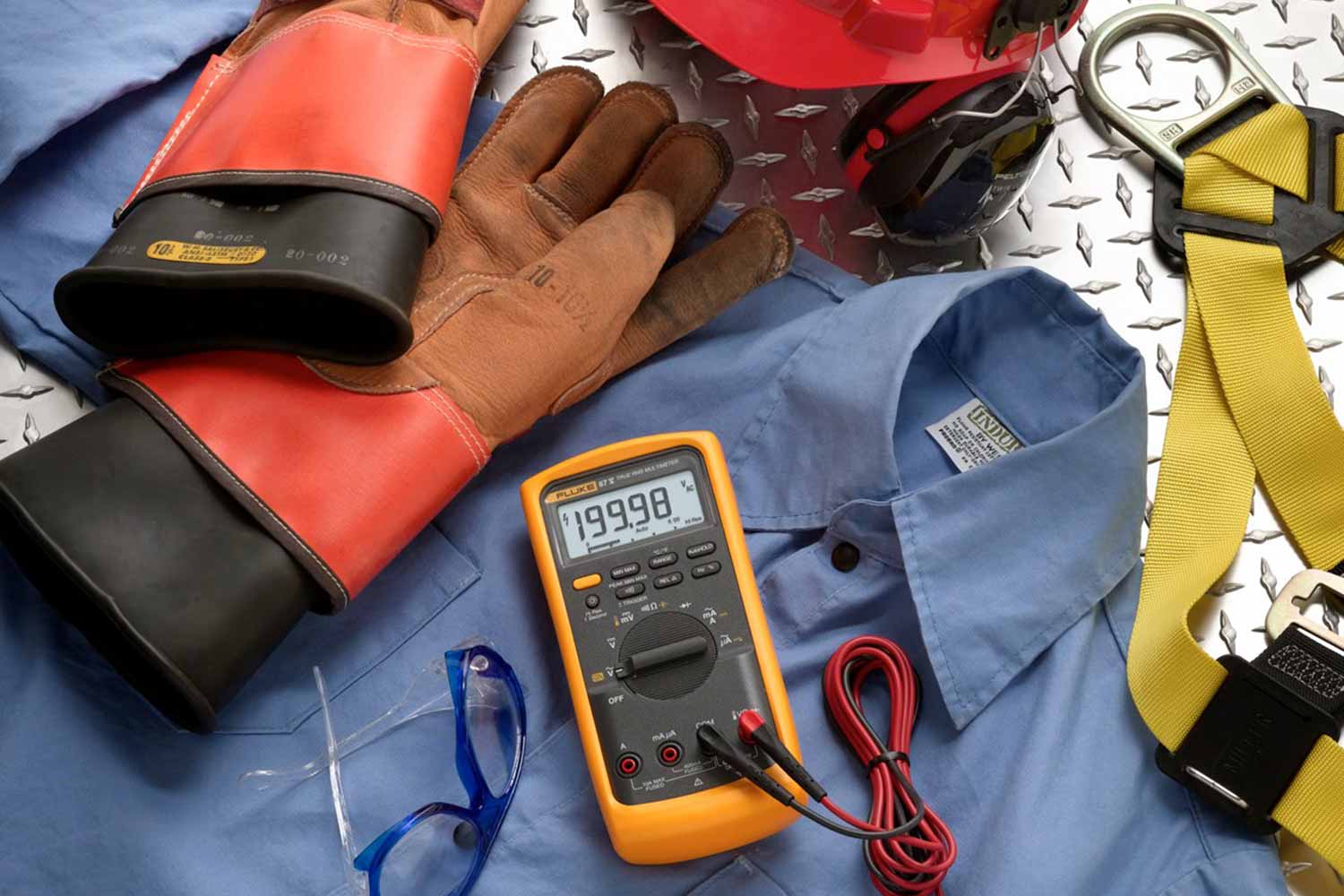 Courtesy Fluke
All else being equal, selecting PPE based on the incident energy analysis method is more effective at ensuring worker safety as compared to the category method. However, a poorly run analysis could put workers in grave danger. Only qualified electrical engineers familiar with power studies and the unique characteristics of PV power systems should perform an arc flash hazard risk assessment for solar applications.
For more tips on optimizing commercial- or utility-scale PV power systems, contact Pure Power Engineering to learn more about our value-engineered design and construction drawing services.