Modules can underperform for a variety of environmental and non-environmental factors. With good design and operation practices we can mitigate non-environmental factors. However, we cannot control the environment. We can only predict its behavior, and in turn verify or discount its effect on under-performance.
What are the main environmental drivers? There are a variety of unique attributes for each environmental factor. To simplify things, lets break it down into two categories:
Part 1 – The Suns Potential (weather data)


Part 2 – The Sun's Availability (Snow, Soiling, & Shade) – See below
Part 2 – Sun's Availability due to Snow, Soiling, & Shade

The suns availability is limited by all things that can block the sun from hitting our modules when the sun is shining. We will focus on the 3 most influential things in our system modeling:
Snow Soiling. Snow fall on modules degrades production by creating a barrier between the solar irradiance and solar cells. Depending on the module tilt, as temperatures and irradiance levels increase after snow fall events, thin layers of water form between the snow and module surface due to rising module temperatures. This allows for snow melt conditions, leading to snow shed from the modules. Developers should effectively analyze snowfall patterns in the development stage to adequately model snow loss prior to construction.
Example of Snow Soiling (Left) & performance data (right)

Soiling (Non-Snow). Leaves, pollen, and a variety of other debris can coat modules and racking, leading to degradation in performance. Depending on the geographic climate, the production effects can vary. For example, southern states see high soiling rates during pollination season. Washing modules may prove cost-effective in areas prone to drought and/or light rain, whereas systems in areas receiving moderate-rain can 'self-clean' with a solar resource offset on rainy-days.
Example of (non-Snow) Soiling (Left) and resulting performance data (right)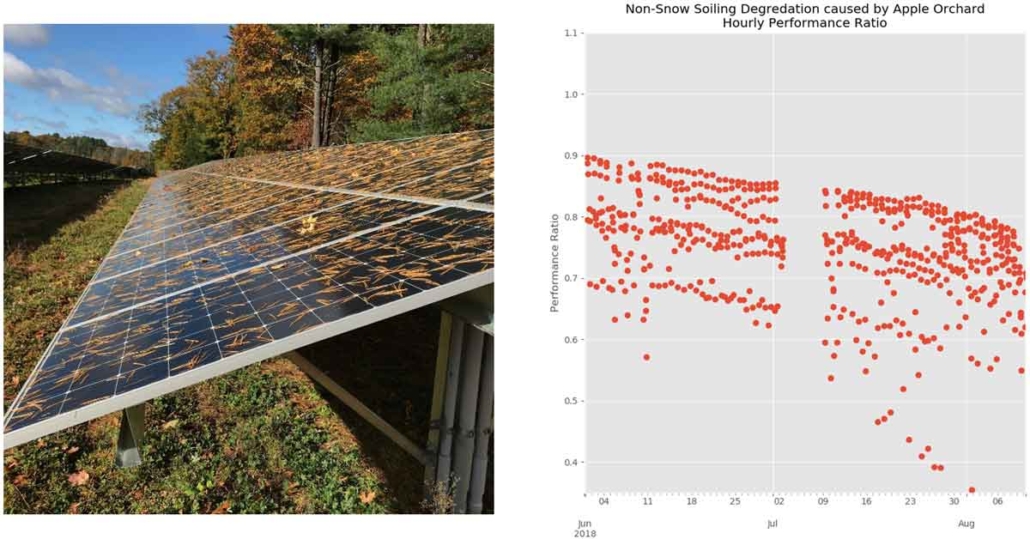 Near Shading. Trees, buildings, powerlines and other obstructions not related to the horizon-site are known as near shading obstacles. When placed within reasonable distance of the eastern or western side of a site (e.g. – a water tower to the east of a system), the obstruction can cause morning or afternoon shading on the modules as the sun passes over. The effect of this obstruction varies by sun-elevation and seasonality, with winter typically being the most impactful. Effective project development and validation can mitigate shading issues prior to system build. Upon constructing of a project, specific situations allow for tree removal or obstruction mitigation
Far Shading (Horizon).

Obstacles on the north or south side of a system (hemisphere-dependent) can cause production impacts as well . When sun-elevation is low enough, north-south shading can be present during the entirety of a solar day. This type of shading underperformance has similar characteristics of downed-capacity and should be avoided at all costs. Mitigation should occur during the development stage, by improving shade models.
Example of Shading (left) and performance data (right)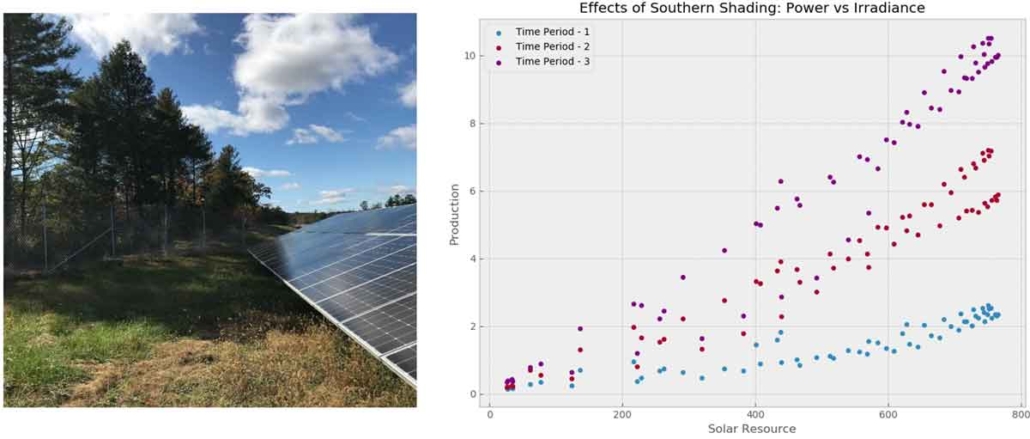 Who conducts these complicated tests?
Pure Power has an Owner's Engineering department that specializes in the running the weather assessment, as well as PVSYST and historical assessments.
To save time and money on your next project, reach out to Pure Power at info@PurePower.com