In recent years, an increasing number of clients have come to Pure Power Engineering for assistance repowering legacy solar PV and energy storage systems. A fundamental goal of repowering is to replace underperforming or obsolete equipment while maintaining or refurbishing the equipment that is still performing to original design and performance expectations. Making these strategic decisions is as much of an art as a science, combining forensic analysis, industry expertise and creative problem solving.
Most of the systems that industry stakeholders are repowering today are 10 or 12 years old. Many equipment manufacturers have come and gone over that time. Standard product and system design architectures have evolved. Product safety standards and electrical codes have changed dramatically in terms of system voltage, grounding, dc arc-fault detection, rapid shutdown and PV conductor wiring conventions.
Repowering legacy systems is considerably more complex and nuanced than building new systems from scratch. It is both a design engineering problem and an owner's engineering problem. Here, we briefly consider some of the market forces behind repowering. We also present some pro tips for overcoming the inevitable challenges that project stakeholders confront when repowering legacy systems.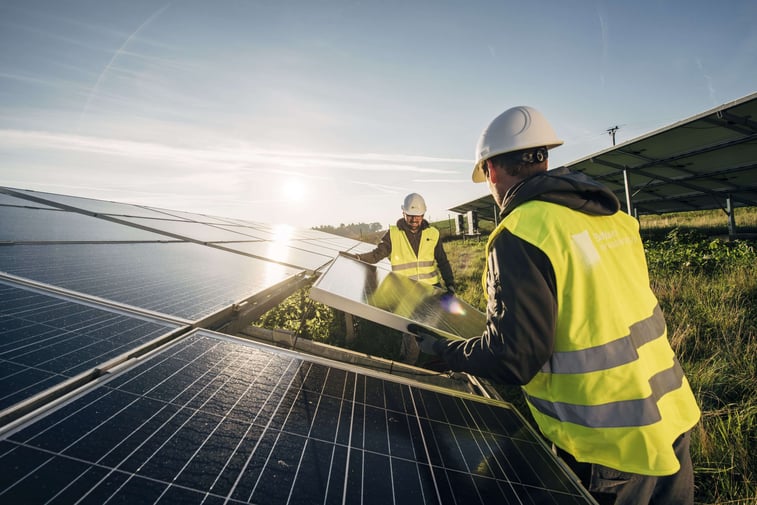 Courtesy Sun & Wind Energy (via BayWa r.e.)
Who Is Repowering Systems and Why?
Pure Power Engineering works with a variety of stakeholders on repowering projects. While there are many reasons that repowering may make good financial sense, we will focus on two real-world examples. In one common scenario, a long-term owner is looking to improve financial returns. In another, a project developer or EPC has identified a programmatic opportunity to convert existing clients into repeat customers.
Repowering to improve returns. While PV modules have a service life and performance warranty measured in decades, power-conditioning equipment generally carries a 10-year warranty. At the end of this warranty period, it becomes increasingly costly for owners to keep legacy inverters in service, especially when replacement parts are obsolete or scarce. In this scenario, a long-term owner may find it is advantageous to repower a legacy system to increase energy yield and reduce ongoing O&M costs. Modern transformerless string inverters are more efficient (96%–99%) at converting solar-generated dc power into grid-synchronous ac power as compared to legacy transformer-based central inverters (90%–95%). Moreover, repowering with string inverters mitigates performance risk and reduces repair and replacement costs.
Repowering for repeat business. Changes to renewable energy incentive programs can also act as a lever that tilts the financial scales in favor of repowering. For example, many legacy PV systems in New Jersey take advantage of the state's generous and now-expired Solar Renewable Energy Credit (SREC) market. More recently, the state has implemented a series of successor programs, such as the Transition Renewable Energy Certificate (TREC) and the recently announced Successor Solar Incentive (SuSI). A similar dynamic is at play in Massachusetts. In each of these markets, savvy developers and EPCs have been quick to show customers how repowering existing systems with parallel interconnections can increase solar project revenues. In this scenario, one interconnection is subject to the legacy incentive program, while any additional new capacity is interconnected under the successor program.
Pro Tips for Overcoming Repowering Challenges
Repowering legacy systems is more complicated than building from scratch. In some cases, existing PV circuits need to be redesigned to work with modern inverters, leaving the mounting structure and interconnection intact. In other instances, repowering involves replacing inverters, modules and other balance-of-system equipment, which may require redesigning the mounting structure or the interconnection. Though the complications that arise are unique and site-specific, they are always manageable with a competent engineering partner. Here are some pro tips for repowering legacy solar and energy storage systems.
Never trust the as-builts; verify the existing conditions.
Industry standards, best practices and contract requirements have come a long way in the last decade. This fact is particularly noticeable when we compare the as-built drawings for legacy systems to the in-field conditions. In the Wild West days of solar, some fielded systems were deployed without accurate as-built drawings. In addition, all of the system repairs and modifications that have taken place over the previous decade or so are often not captured in the record drawings. As a result, the first step in repowering any project is to survey and document the existing conditions thoroughly. In addition to accounting for major equipment, it is crucial to document conductor gauge and type as well as conduit sizes, quantities and routes.
Coordinate closely with the AHJ and pull permits as required.
Unlike routine O&M activities, full-scale system repowering activities are generally subject to AHJ review and approval. As part of the engineering process, Pure Power will flag any existing conditions that may not align with current code requirements. One typical example is that legacy systems often use color coding conventions that are different from those in the most recent editions of the National Electrical Code. Some AHJs may approve the reuse of these circuits, provided that conductors are reidentified using electrical tape. Other AHJs may require you to remove and replace the existing conductors. In roof-mounted systems, repowering activities may retroactively trigger rapid shutdown requirements; if so, these considerations will drive the design process. Have these types of conversations with AHJs early and often to ensure that repowering projects are scoped and engineered properly from the start.
Courtesy SolarPro
Structural modifications require engineering supervision.
The benefit of removing and replacing existing modules is that project stakeholders can increase system capacity in the process. Whereas a legacy system might be built with 200-watt modules that are 15% efficient, a modern system might integrate 400-watt modules that are 20% efficient. In this scenario, repowering activities include deciding how best to repurpose an existing ground-mount or carport structure given the new module dimensions. This process invariably involves new shade studies and strategic structural modifications, perhaps changing purlin orientation or extending structural members. It may also require trenching adjacent to existing foundations. These structural changes or foundation disturbances must be reviewed and supervised by a professional engineer. Additionally, the original equipment manufacturer may need to sign off on certain types of structural modifications, such as plans to install new string inverters on ground-mount piles in place of legacy combiner boxes.
Listed equipment modifications require field evaluation and certification.
Certain types of product modifications also trigger field evaluation and certification requirements. For example, today's C&I string inverters are designed for use with 1,000-volt nominal PV source circuits, whereas legacy systems integrate 600-volt-rated modules. Consult with equipment vendors early during the design phase to ensure that modern inverters will work with legacy system components. To improve maximum power point tracking efficiencies, an OEM may be able to make a one-off adjustment to the dc operating parameters for a listed inverter, in some cases by reducing the native ac output voltage. While these types of parameter changes solve interoperability problems, a field evaluation service will then need to certify that the modified equipment meets relevant product safety standards. Similarly, field modifications to legacy mounting systems may trigger field evaluation and certification to ensure that the installation meets current product safety standards.
Engineering experience and expertise mitigate project risk.
Legacy systems are a reminder that solar technologies have come a long way in a relatively short period of time. A repowering approach that works for a PV system fielded with Satcon inverters will not work for bi-polar PV array integrated with Advanced Energy inverters. Ultimately, the best way to avoid the pitfalls associated with repowering projects is to choose a qualified and competent engineering partner who will ask the right questions on the front end to deliver a repowering solution that meets project-specific goals. As a full-service engineering company specializing in solar and ESS projects, Pure Power is uniquely qualified to work with stakeholders to give legacy systems a second lease on life. With more than a decade of industry-specific expertise as an organization—and nearly 400 years of combined experience as a team—there is nothing in C&I and utility-scale solar and solar-plus-storage applications that we have not seen.
Looking for more pro tips for your C&I solar and ESS projects? Contact Pure Power Engineering to learn more about our value-engineered design and construction drawing services.